Get familiar with our new quality vision
Daj v skupno rabo po e-pošti
Novice
julij 29, 2021 O EUIPO
Get familiar with our new quality vision
At the EUIPO we try constantly to improve the quality of our decisions and provide top-notch products and services to our customers. This includes identifying the key quality aspects of our work and breaking them down to be able to define what sets us apart. The new IP Product Cycle diagram shows the quality factors of the EUIPO customer experience at a glance.
The diagram is the result of a thorough analysis in which the Office has mapped all the quality factors that impact the EUIPO customer experience: from the moment an application is filed until a decision is made by our staff and notified to the customer.
This journey, which we refer to as the IP Product Cycle, is underpinned by different elements that come into play to ensure that the quality expectations of the Office and its customers are met.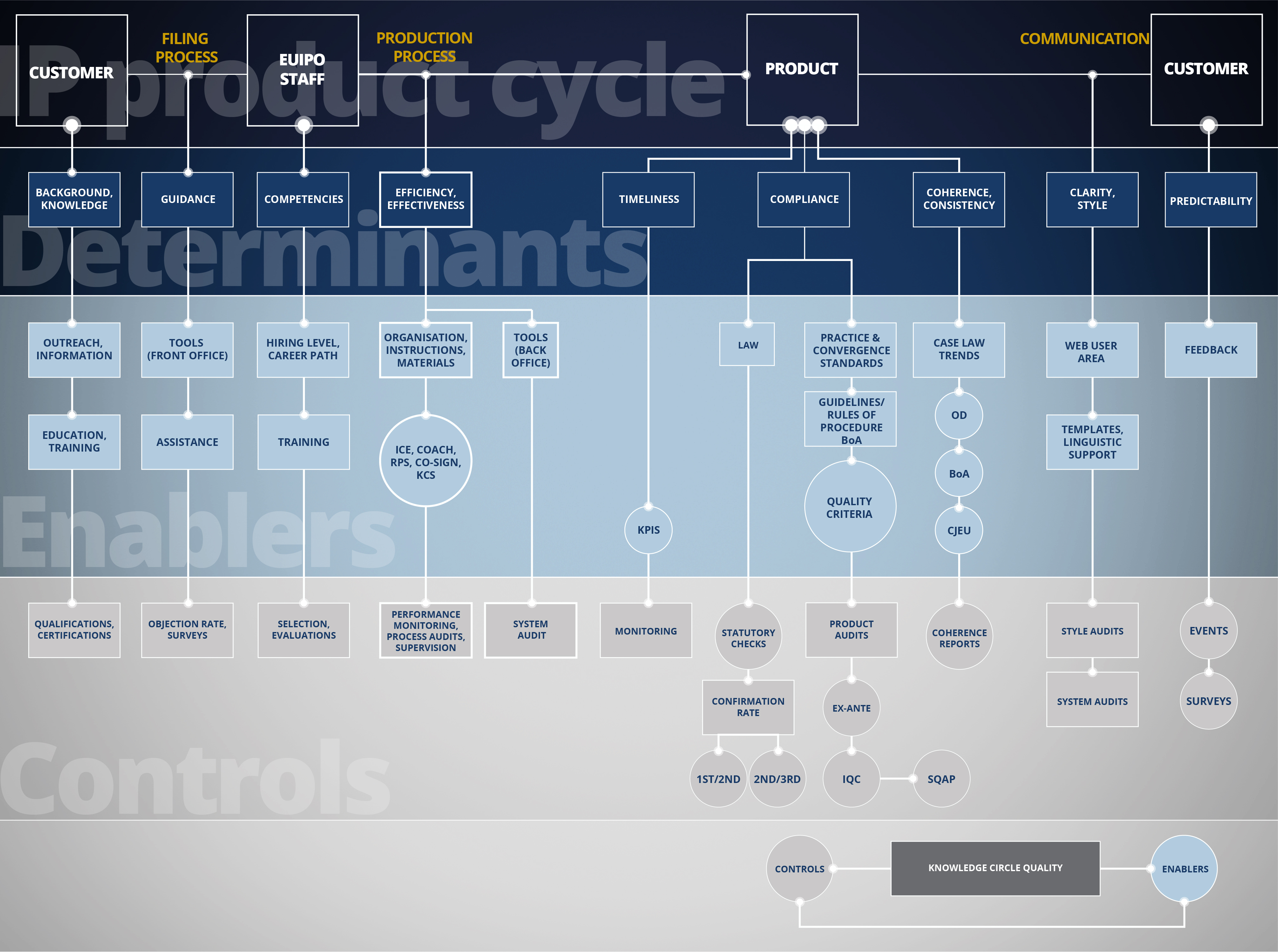 A closer look at the IP cycle
The diagram captures the entire cycle of the EUIPO's core business activities, and it is broken down in several phases.
The first layer, the product cycle, features the main actors and components of the trade mark and design journey: a customer files a trade mark or design, the EUIPO staff reviews it and a decision is taken and communicated back to the customer.
The second layer, the determinants, displays the factors that define and determine the quality with concepts like knowledge or compliance.
The third layer lays down what we define as 'enablers', these are elements that support the overall process like web tools or quality criteria.
The fourth layer, the controls, shows an overview of the quality controls put in place by the EUIPO in order to ensure a certain level of quality. These include the standards of measurement and comparison and/or the means of verification of the desired quality outcome.
The diagram can be applied to any Office IP Product, for example any output of the Office, such as letters, notifications, decisions, and certificates, and helps to identify where future initiatives could be plugged in to improve products and services for customers.
New administrative decision
This reflection work on the role of quality at the EUIPO has also resulted in a new administrative decision that covers the scope, main structure and principles of this initiative with a detailed description of the components and their interactions.