Ombudsman Award 2021: the EUIPO shortlisted
Daj v skupno rabo po e-pošti
Novice
junij 25, 2021 O EUIPO
Ombudsman Award 2021: the EUIPO shortlisted
The three representatives of the shortlisted candidates, including Andrea Di Carlo, EUIPO Deputy Executive Director (in the middle), presented live by Ombudsman Emily O'Reilly.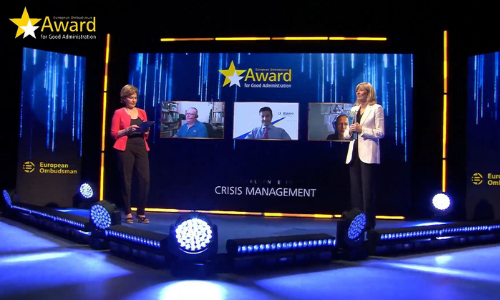 On Thursday 24 June 2021, the European Ombudsman's Office hosted the third biennial 'Award for Good Administration' in the EU institutions. There were 37 nominations, with the EUIPO nominated for two awards: one for its work to support SMEs through the Ideas Powered for Business initiative, Project 10 'EUIPO: A big heart for small businesses', and the other for its work with the Translation Centre for the Bodies of the EU (CdT) to make innovative use of AI to improve multilingual communication with EU citizens, Project 16: 'Using artificial intelligence to serve a multilingual EU'. Prizes in four categories – including excellence in communications, and excellence in innovation/transformation - were awarded and for the first time this year, a popular vote was also celebrated. In a message posted on LinkedIn, the EUIPO Executive Director said:
All of the nominated projects were impressive, and this year showed particularly stiff competition because of the human dimension of dealing with the pandemic, this was very apparent in the emotion shown during the ceremony. While I'm disappointed that the EUIPO projects did not ultimately win I couldn't be more proud of the excellent work we have carried out, leading to our projects being shortlisted. This was a great achievement in itself, and a good reflection of the way all of our staff have continued not only to work for our users, but to support each other over these past months.
The EUIPO congratulates the winners of this year's award, including the joint projects, 'Bringing citizens home during the pandemic', which were undertaken by staff in the European Commission's department for Civil Protection and Humanitarian Aid (DG ECHO) and the European External Action Service (EEAS). Together with Member States, they helped repatriate more than half a million of stranded EU citizens as the spread of the COVID-19 spurred lockdowns across the world.
The awards were launched in 2017 by the European Ombudsman Emily O'Reilly to recognise excellence in EU public service and to encourage the sharing of good ideas and practices. Due to the COVID-19 constraints, the ceremony was for the first time entirely digital, with President von der Leyen as keynote speaker.