15th Liaison Meeting on Cooperation, 24th Liaison Meeting on Trade Marks and 19th Liaison Meeting on Designs at the EUIPO
Daj v skupno rabo po e-pošti
Novice
september 28, 2020 O EUIPO
15th Liaison Meeting on Cooperation, 24th Liaison Meeting on Trade Marks and 19th Liaison Meeting on Designs at the EUIPO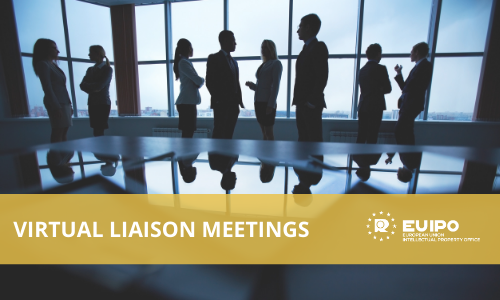 The EUIPO will be holding the online sessions of the 15th Liaison Meeting on Cooperation, 24th Liaison Meeting on Trade Marks and 19th Liaison Meeting on Designs from 6 to 8 October 2020.
The Liaison Meetings are the official forum in which experts from the intellectual property offices of the EU Member States (MS IPOs), candidate countries and members of the European Free Trade Association (EFTA), as well as representatives of the European Commission and User Associations, meet to discuss the latest developments in the area of trade marks and to exchange technical expertise in line with Article 152 EUTMR. In this regard, the Liaison Meetings contribute significantly towards the continuous development and sustainability of a European Union Intellectual Property Network (EUIPN).
Included on the agenda will be a draft evaluation report of the results of the European Cooperation Projects under SP2020 and a proposal for acknowledgement of CP11 'New types of trade mark: Examination of formal requirements and grounds for refusal and invalidity' and of CP12 'Evidence in trade mark appeal proceedings'.
Further items on the agenda are updates on 'ECP4 Convergence Analysis' and 'EU legislation on design protection'. Participants will also be provided with an overview of 'EU-funded Projects' and the new project under SP2025, 'Broaden the Cooperation Framework outside the EU'. Presentations on 'New types of designs' and 'WIPO Digital Access Service (DAS)' are also included on the agenda.
The Liaison Meetings will also host two panel discussions with the contribution of some MS IPOs: state of play of the implementation of CP2 'Convergence of Class Headings' and 'Trade marks containing names of drugs and terms referring to strains/variants of Cannabis plants'.
Various EUIPO services and departments, such as the European Cooperation Service, International Cooperation Service, Legal Practice Service, Operations Department and the Boards of Appeal, will be involved in presenting the different agenda items.