eRegister (beta version) launched
Daj v skupno rabo po e-pošti
Novice
april 20, 2020 O EUIPO
eRegister (beta version) launched
eRegister, a new tool for accessing historical information on European Union trade marks (EUTMs) and registered Community designs (RCDs), has been launched today in beta version.
EUIPO's goal with the future eRegister is to offer an official record, in electronic form, of every entry made in the Register in relation to an EUTM or RCD application or registration. As the records are presented in chronological order they also serve for historical reference purposes.
With the future eRegister tool, EUIPO's users will be able to access EUTM and RCD related information in such manner that a consultation of the situation of the IP right at a given point in time remains stable independently of when this consultation is made.
This new tool is expected to increase the traceability of a given IP right's history, allowing users to easily ascertain what information was changed, when it was changed and why it was changed.
For instance, understanding the successive changes to an IP right such as the creation, modification and extinction of licences will be a much simpler exercise. Another example is IP rights with many transfers of ownership, where it may currently be difficult to ascertain the different previous owners at a specific point in time.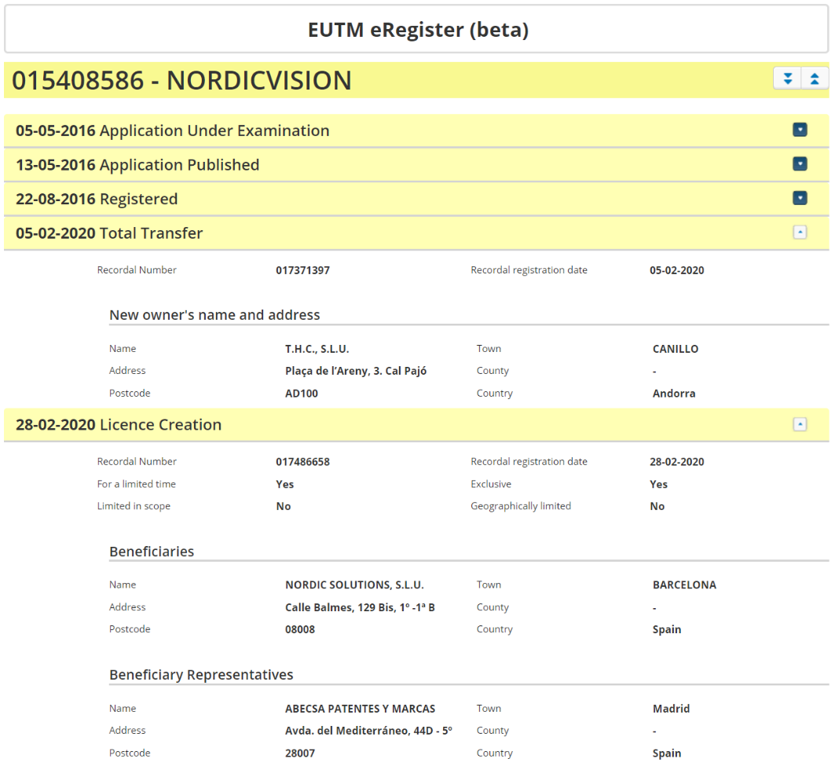 This tool seeks to streamline and improve the tracing of IP right changes, in terms of information that defines its nature and extent of protection, so that it is possible to know its situation at any point in time, thus contributing to the creation of an effective and secure digital environment with streamlined digital operations and highly available systems.
For now, the eRegister beta version should only be used for testing purposes. It should not be used to replace eSearch functionalities or to meet the everyday needs of users. The information contained on the beta version of the eRegister may not work as expected, or be comprehensive, complete, accurate, or up to date. For this reason it does not have any legal value and should not be relied on for any purpose. Disclaimers have been inserted in the tool raising awareness of this fact.
For further information on how personal data is processed within the framework of the eRegister beta version, please refer to this privacy statement and to the data protection section of EUIPO's website.
Would you like to test its functionalities? Please send us your feedback