User Satisfaction Survey: learn how the EUIPO is acting on your feedback
Stiri
mai 26, 2021 Generează
User Satisfaction Survey: learn how the EUIPO is acting on your feedback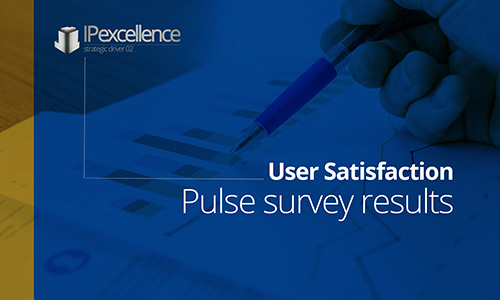 The latest pulse survey shows 90.53 % overall satisfaction with the EUIPO's tools and services, 2.13 % points higher than in the 2020 User Satisfaction Survey
Pulse surveys are conducted every quarter to target a few segments of the EUIPO's customer population at a time on certain topics. The latest pulse survey, launched in February, captured feedback from 714 participants on their satisfaction levels with the Information Centre, the Office's examiners and the EUIPO website.
The results in a nutshell
85 % of customers are satisfied with our Information Centre, the Office's call centre that manages on average 800 calls per day in five languages (English, French, German, Italian and Spanish).
85 % of customers are satisfied with the EUIPO's website, our gateway to filings online and to a wealth of information on trade marks and designs.
86 % of customers are satisfied with the work of the Office's examiners, who examined over 177 000 trade marks in 2020 alone, a record +10.2 % growth.
The User Satisfaction Survey 2020
The pulse surveys are a follow-up to the Office's main feedback mechanism, the User Satisfaction Survey, which is conducted every two years and measures everything from overall satisfaction with the EUIPO's registration procedures to levels of satisfaction with customer services, appeal decisions and the handling of complaints. The last survey was conducted in January 2020.
Just one year after this last major survey on our operations, we can already report on the first actions to improve our services and operations.
Better accessibility
We are working constantly to make it easier for customers to talk to the examiner in charge of their file.
Our examiners contact customers regularly in order to quickly resolve straightforward cases; for example, when an obviously misclassified term must be transferred to another class. Conversely, if a customer calls and the examiner is unavailable, the examiner will call back in less than 24 hours.
More customer feedback
We have extended our Stakeholder Quality Assurance Panels (SQAPs) to other areas of our work such as cancellation decisions. The SQAPs are audits conducted by our customers on the Office's decisions that aim to close the gap between their perception of quality and our own.
Our new Customer Panels, launched in 2020, are devoted to the EUIPO's services and tools, and provide valued customer feedback on our services, databases and other activities. Along with the SQAP initiative, they help us to fully integrate the customer perspective in everything that we do.
In the operations area we are focusing on customers and their expectations as regards a modern public administration. In fact, we have launched the Customer-centric Approach programme, geared at improving the way we work and interact with our customers by tailoring our services to particular segments with common needs and expectations.
Better tools and services
In July 2020 we became a participating intellectual property office of the WIPO Digital Access Service. This is an electronic system that allows priority and other similar documents to be exchanged securely between participating IP offices, thereby helping applicants meet the Paris Convention's requirements for providing priority and other similar documents electronically to participating offices.
Easy Filing, launched in January 2020, is a new, mobile-friendly application combining artificial intelligence and the latest technologies to simplify online filing. First filers, with little or no knowledge of the application process, are guided in a way that should prevent mistakes and avoid deficiencies.
We have increased the quality and number of free IP courses and Tuesday webinars in our Academy Learning Portal. By the end of 2020, we were offering 952 courses to approximately 1 000 registered users. Our webinars experienced a 6.7 % increase in the total number of viewers to nearly 10 000 participants.
One year after the launch of its beta version, the first official eRegister was launched in March 2021. eRegister allows access to historical records of EU trade marks and registered Community designs and increases their traceability by allowing users to see what information has changed, when it was changed and why it was changed.
More consistent decisions
In October 2020 we launched the 'AG2Review' initiative to enhance quality and consistency in the examination of absolute grounds for refusal. AG2Review is a peer-to-peer review of the Office's objection letters before their notification to the trade mark applicant. Letters that have been peer reviewed are easily identifiable by the presence of the AG2Review stamp and the reviewer's name.
Thank you to all EUIPO customers who took the time to provide feedback on any of these surveys, your feedback is helping us to shape our work and deliver better results.