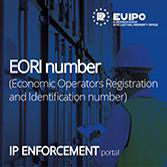 EORI number: obligatory for applications for action
15 september 2020
As of today, 15 September 2020, theEconomic Operators Registration and Identification (EORI) number is obligatory for the submission, amendment and extension of customs applications for action (AFA). Read more on how to request one.
We would like to request that our rights holders using the tool introduce their company EORI number under Company Details.
For legal representatives, we have adapted the IP Enforcement Portal to include an EORI field. Legal representatives, therefore, should request an EORI number for their legal office and enter this information in the IP Enforcement Portal, under the Legal representative section.
How to request an EORI number
EU companies can request an EORI number in the customs offices of their Member State. Non-EU companies can request one in the customs authorities of the EU country responsible for the place where they first lodge a declaration or apply for a decision.
You can find more instructions on how to request an EORI number in the customs authorities of the different Member States (including timing and procedure) in this EORI National Implementation document.
More information on the EORI number can be found in this web page of the European Commission.
For any questions on the EORI number or your account in the IP Enforcement Portal please do not hesitate to contact us at ipenforcementportal@euipo.europa.eu