'In 25 years, we've never seen anything like it!'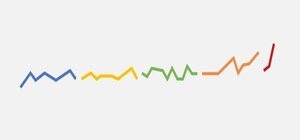 EUIPO Operations Director, Karin Kuhl, on the remarkable rise of trade mark applications.

The EUIPO, during its two and a half decades of existence, has become an EU agency with a truly global reach. It received its one millionth application in 2011, and has since then experienced a rapid growth in demand for the EU trade mark, from nearly every country and region in the world.
EU trade mark applications have been on the rise for a number of years. While the EUIPO has been fully prepared to handle the historical annual growth of between 3.5% to 5%, today it is dealing with a much higher growth (10% in 2020 and almost 28% in the first four months of this year). Karin Kuhl, the EUIPO's Director of Operations, gives an insight on the reasons behind this growth.
'Applications originating from China is the educated guess that most people make,' says Karin, particularly considering President Xi's endorsement of the importance of IPR protection. 'But besides China, we've also seen a significant growth in filings this year from European countries, the United States and Japan. Online commerce is booming, and everyone who wants to sell on large platforms needs to show they have IP protection.' In the first three months of 2021 alone, the EUIPO received 10 000 more trade mark applications when compared to the averages of previous years.
'We welcome this increase in workload as a positive sign of the attractiveness of the European market and trust in the EU trade mark system, and we are doing our utmost to meet this heightened demand without jeopardising quality, which is our number one concern', says Karin. Thanks to the special effort and professionalism of our examiners and the other EUIPO staff supporting operations, the service charter and quality indicators continue to be fulfilled despite the unprecedented growth. However, should the increase continue at the same pace in the coming weeks, some delays may be unavoidable, especially when applications are subject to examination objections.
With this in mind, Karin offers some practical advice for Key Users, indicating that for those applications where speed is important 'Fast-track' and the HDB should be used. 'This would avoid classification objections, which still represent the vast majority of deficiencies during the trade mark examination procedure'.
As a result of this increase in EUTM filings, the EUIPO's operations do provide an additional boost to the EU economy. While further efficiency and automation initiatives are ongoing, these will not be sufficient to absorb this tremendous growth. Therefore, a campaign to recruit additional IP professionals and trade mark examiners has been launched.
Karin concludes: 'It's fantastic that economies are picking up and we are ready to support you in your endeavour to protect your ideas and innovations. Thank you for your trust in us.'