Online Conference: Fostering Innovation in Europe
Vijesti
lipanj 12, 2020 O EUIPO-u
Online Conference: Fostering Innovation in Europe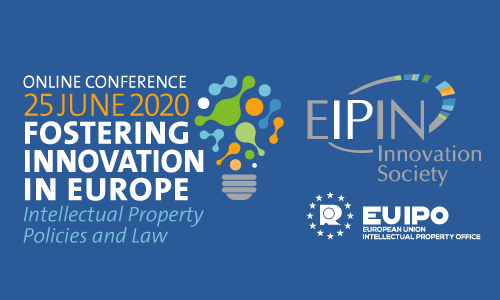 In the framework of the European IP Institutes Network Innovation Society (EIPIN-IS) project funded by the European Commission, the EUIPO is hosting the online conference Fostering Innovation in Europe – Intellectual Property Policies and Law on 25 June 2020, organised in collaboration with the consortium of EIPIN Universities.
The EIPIN-Innovation Society is a comprehensive project at the forefront of multidisciplinary research, examining the role of intellectual property (IP) as a complex adaptive system in innovation. It provides political leaders and stakeholders with reliable conclusions and recommendations in the form of doctoral IP research on how to deal with the adaptive complexities of innovation cycles.
The EUIPO Academy, as a partner organisation of the European Joint Doctorate in Intellectual Property EIPIN-IS, has invited the 14 EIPIN-IS early stage researchers involved in the project to present their research to representatives from different IP-intensive industries, IP Offices and other IP organisations, to enhance their visibility and support the dissemination of cutting-edge research on IP.
The conference consists of four panels and has been designed to provide participants with opportunities to engage in real time, by asking questions and exchanging views with the speakers. It will be held in English through Zoom. For more detailed information, please check the agenda available on the registration page below.
Participants are kindly requested to register by Monday 22 June via the following link:
https://euipo.blumm.it/event/ar/1/eipin-innovation-society
Join each session individually, or the entire event, to learn more about the role of IP in Europe's innovation society and talk with our PhD researchers!
Should you have any questions, please do not hesitate to contact us at:
eventsmanagementacademy@euipo.europa.eu