European Cooperation Projects working groups: 22 February – 5 March 2021
Vijesti
veljača 22, 2021 Europska mreža za žigove i dizajn
European Cooperation Projects working groups: 22 February – 5 March 2021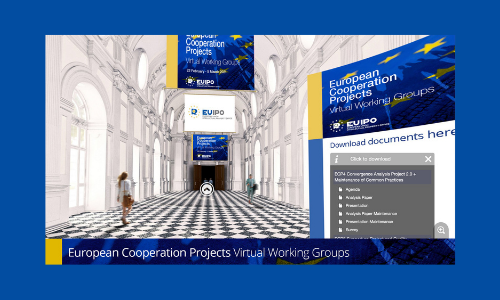 Experts from the European Union Intellectual Property Network (EUIPN) will be meeting virtually for the 2nd European Cooperation Projects (ECPs) working groups of the Strategic Plan 2025.
Participation and engagement in the working groups has increased over the past years, reinforcing the exchange of knowledge. This year the event will gather approximately 320 representatives from national and regional IP offices of the EU, user associations and multiple departments of the EUIPO, together with observers from the World Intellectual Property Organization (WIPO), the European Patent Office (EPO) and the European Commission.
In this edition, the EUIPO will hold 15 working groups, which will review the progress made on the projects of the new Strategic Plan 2025, including: ECP2 major improvements to TMview and DesignView, major improvements to back office and front office, maximising the use of collaborative work tools; ECP3 support to the IT infrastructure of intellectual property offices (IPOs) through cloud computing, Decision Desktop, Integrated Multiple Assessment Solution (IMAS); ECP4 Convergence Analysis 2.0 and maintenance of common practices; ECP5 support on Project and Quality Management Development and Emerging Technologies Incubator; ECP7 IP legislative and practice repository; and ECP8 assistance on Article (8)4 EUTMR IP rights.
In particular, the working group for ECP6 Supporting Small and Medium Enterprises (SMEs) will gather 31 external participants: 21 from IP national or regional offices, five from user associations, and one observer from WIPO, from the EPO and, for the first time, from the IPOs of Luxembourg and the Netherlands, and from the European Commission. This working group will last 4.5 days, and it will be devoted to share experiences on the SME-focused activities, on a feedback session on the SME website, on potential future support activities and on the 2021 mapping exercise.
The Classification Working Group meetings, in cooperation with the EUIPO's Digital Transformation Department, will be dealing with two different work streams – designs and trade marks – bringing together classification experts from EU IP offices as well as the WIPO and user associations.
The working groups play a key role in defining the technical direction and business justification for each project, as well as maintaining strong links with their own and related organisations to make sure that projects remain appropriate and are delivered on time.