From food and wine to … textiles and crafts: a short history of GIs
Compartir por correo electrónico
Noticias
junio 07, 2022 Acerca de la EUIPO
From food and wine to … textiles and crafts: a short history of GIs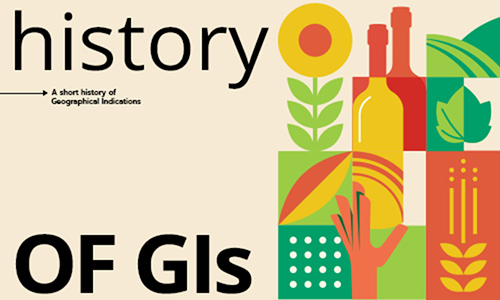 By Eleonora Rosati
When you buy some Prosciutto di Parma at your local deli or order a glass of Alentejo at your favourite restaurant, you probably know that you are getting a product that reflects a longstanding tradition of expertise, quality, and craftmanship.
But did you also know that the use of terms like 'Prosciutto di Parma' and 'Alentejo' is reserved to producers that are based and operate in specific territories and in accordance with a detailed set of rules and standards?
Indeed, these names are protected by a specific type of intellectual property ('IP') right: geographical indications ('GIs'). GIs are not just IP. They are also tools aimed at supporting the objectives of traditional and rural development and address consumers' growing demand for authenticity and sustainability.
How it all started
Throughout history, IP has sought to ensure the protection of trade names and distinctive signs associated with a specific region. Just think that, as early as 1411, France regulated the production of blue Roquefort cheese by parliamentary decree!
However, it was throughout the 1800s that trade names and trade marks started also being used to safeguard the geographical origin and reputation of a product, stemming, for example, from certain qualities that can be attributed to the characteristics of their territories and the know-how of the people living there. Similarly, regimes have been used to protect against false trade descriptions, passing off, and unfair competition. These regimes protect against undue suggestions that a product has a geographic origin or quality that it does not in fact have
Throughout the early 1900s, specific laws were passed to protect geographic origin and quality standards: the first French law on appellation d'origine contrôlée was adopted in 1905, and Italy regulated its denominazione di origine controllata for the first time in 1963.
The international dimension: treaties and trade agreements
Over time, attempts have also been made to harmonise the protection available to GIs on an international scale. Just think of the Paris Convention, which spells out the requirement of protection of indications of source or appellations of origin, the Madrid Agreement, which lays down standards meant to protect consumers against false indications of source, and the Lisbon Agreement, which introduces an international system for the protection of appellations of origin. In all this, the most important international treaty remains the TRIPS Agreement, which provides a definition of GIs and requires its member states to ensure protection against any use of the designation or presentation of an item that misleads the public as regards the geographic origin of such an item.
GIs have been also increasingly protected through the adoption of trade agreements, both on a bilateral and multilateral basis. For example, the EU has concluded several agreements with third countries to ensure protection of third-country GIs, for example Swiss Bernbieter Kirsch, in the EU and vice versa.
GIs in Europe
A system of protection for GIs is also provided at the EU level to protect agricultural products and foodstuffs, spirit drinks, and wines as registered names against misuse or imitation of such names.
With nearly 900 registrations, Italy is currently the EU country with the highest number of registered GIs, ranging from Agnello di Sardegna (lamb) to Pane di Altamura (bread), from Miele delle Dolomiti Bellunesi (honey) to Toscano/Toscana (wine), and many other delicious things!
Over time, courts have also been asked to provide guidance on the interpretation and application of the GI framework. For example, the Court of Justice of the European Union has decided cases concerning cheeses such as French Morbier and Spanish Queso Manchego, UK Scotch whiskey, and Italian Aceto Balsamico di Modena.
Thanks to the efforts of the EUIPO, today it is also possible to see all GIs registered in Europe and beyond using GIview. Launched in 2020, GIview is a database which is currently regarded as the most complete and reliable GI data worldwide. As of today, GIview contains more than 5 200 GIs protected in the EU and has more than 40 000 entries showing the protection of EU GIs worldwide.
The future of GIs in Europe
The importance and success of the GI framework has grown over time. Should the EU system, however, be only concerned with agricultural products?
Since 2011, the European Commission has been considering whether the EU GI framework should be extended to craft and industrial products, this being a possibility that already exists in some EU countries. Over the past couple of years, such a reflection has intensified. As a result, a legislative proposal was unveiled in spring 2022.
From food and wine to textiles and crafts, the EU GI framework may soon be covering all these things. Stay tuned!
Eleonora Rosati is an Italian-qualified lawyer with experience in copyright, trade marks, fashion and internet laws. Dr Eleonora Rosati is a Full Professor of Intellectual Property (IP) Law, Director of the Institute for Intellectual Property and Market Law (IFIM), and Co-Director of the LLM in European IP Law at Stockholm University. She is also Of Counsel at Bird & Bird and is the author of several articles and books on IP issues.
This article was published in the June 2022 issue of Alicante News.