APM_Lichtblicke
Glimmers of Light is a short film produced by the Filmakademie Baden-Württemberg following a competition by APM.
In today's highly competitive global economy, businesses depend more and more on their ideas, knowledge and innovation.
Intellectual property helps to ensure that these valuable assets are properly safeguarded so that enterprises are rewarded for their inventions and successful business ventures.
It is therefore vital to understand how to protect your intellectual property.
At the beginning there is always a sparking idea…
What is intellectual property?
Source: World Intellectual Property Organization
Intellectual property (IP) refers to creations of the mind: inventions, literary and artistic works, and symbols, names, images, and designs used in commerce. IP is divided into two categories:
Industrial property
This includes inventions (patents), trade marks, industrial designs, and geographical indications of origin and plant variety rights.
Copyright
This includes literary and artistic works such as novels, poems and plays, films, musical works, artistic works such as drawings, paintings, photographs and sculptures, and architectural designs. Rights related to copyright include those of performing artists in their performances, producers of phonograms in their recordings, and those of broadcasters in their radio and television programmes.
How does intellectual property affect you?
IP is part of our daily life: it´s the brand of your favourite drink, the design of the shoes you wear or the car you drive.
Take a look at the Observatory´s IP Impact study to see how much intellectual property affect our economy. To find out what European citizens think about intellectual property you can also check our IP Perception study.
IP in numbers - Facts and figures
Over the last decade there has been a wide range of studies on and research into issues related to intellectual property. The Observatory has produced a comprehensive study on the impact of IP on the economy and how IP is perceived.
However, while data on the numbers and types of intellectual property rights in existence has been relatively easy to collect and analyse, studies on the scope and scale of IP infringements and their relation to criminality have been more difficult to carry out.
Here you have access to the Observatory's statistics database and a reference list that includes the latest EU Customs report on border seizures of infringing goods as well as the widely recognised OECD reports on the Economic Impact of Counterfeiting and Piracy and the Magnitude of Counterfeiting and Piracy of Tangible Products. In our Library you can also find studies carried out by public- and private-sector organisations.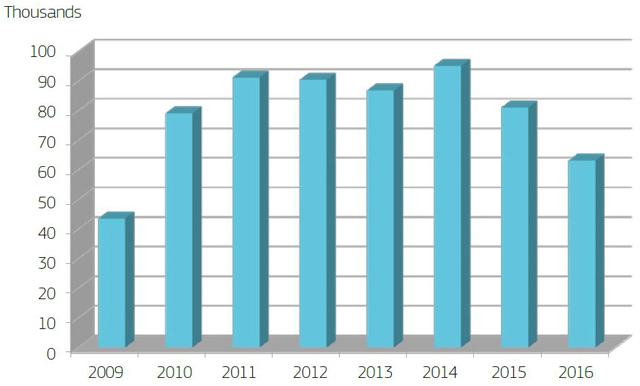 Number of registered cases and articles
How to protect your intellectual property
There are different ways of protecting your intellectual property. To find out how to protect your brands, creations and designs, take a look at the following links for
Links and guides to help you understand intellectual property
Here you will find links and guides that will help you understand the intellectual property system and how you can use it to benefit your business.
Number of registered cases and articles