The EUIPO, through the European Observatory on Infringements of Intellectual Property Rights, and together with the Organisation for Economic Co-operation and Development (OECD) publishes studies and research on the global trade in counterfeit and pirated products, analysing the impact on the economy, and the share of international trade affected by the phenomenon.
In particular, the main goal of this study series is to assess quantitatively the value, scope and trends of trade in counterfeit and pirated tangible products.
Following the publication of the latest study in the series ('Trends in Trade in Counterfeited and Pirated Goods' (2019)) analysis began on trade in counterfeit pharmaceutical products.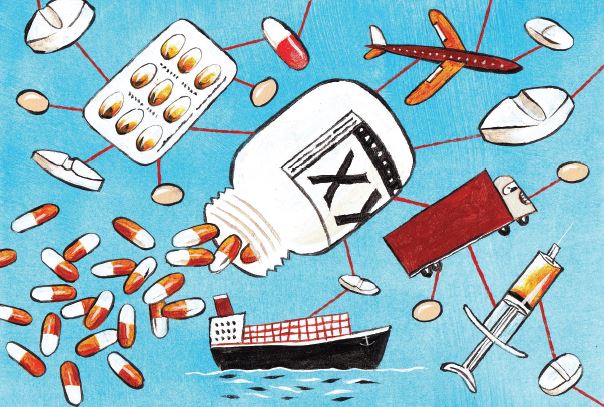 Counterfeit pharmaceuticals can pose a direct threat to health and life, and their arrival into the EU, often through small parcels and internet sales, poses a challenge for enforcers. Tackling this issue requires that the current national and EU-level coordination is further reinforced, and supported by global actions.
Main findings
The total value of counterfeit pharmaceuticals traded worldwide is estimated to be up to EUR 4.03 billion (USD 4.4 billion).

Customs seizure data analysed in the study, which covers the period 2014-2016, shows that counterfeit antibiotics, lifestyle drugs and painkillers were the most frequently encountered.

This counterfeit trade is facilitated by the growth in small package shipments by parcel post or letter packets, which are more difficult for customs officers to detect. Between 2014-2016, 96% of all customs seizures of counterfeit pharmaceuticals were of postal or express courier deliveries.

India and China are identified as the largest producers of counterfeit pharmaceuticals at global level, with Singapore and Hong Kong appearing as the most important transit points in the counterfeit pharmaceutical supply chain.

The report uses a relevant subset of data from nearly half a million customs seizures from international enforcement agencies including the World Customs Organization, the European Commission's Directorate-General for Taxation and Customs Union, and the United States Department of Homeland Security. The datasets are composed of information collected and processed by customs officers.

The report also includes data from the Counterfeiting Incident System of the Pharmaceutical Security Institute (PSI), which comprises cases reported by PSI member companies of fraudulent manufacture, mislabelling of drugs and fraudulent packaging. In addition, the study draws on research from the World Health Organization, among others.
Resources

Full report

Show

Executive summary

Show

Press release

Show