News
September 21, 2020 News
First Authenticity: Thessaloniki, Greece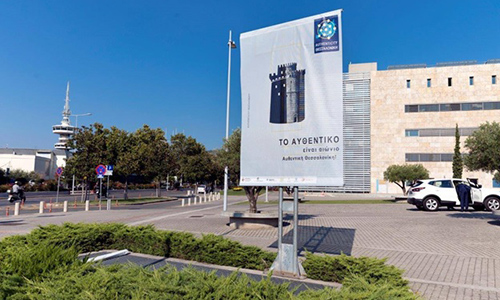 The kick-off event and media launch of the first Authenticity took place on Friday, 11 September, at Thessaloniki's City Hall, Greece. It was a great success, attracting all local media as well as representatives of business and state authorities.
On 30 July 2020, under the framework of the European Cooperation Project 'European Network of Authenticities', the Municipality of Thessaloniki (Greece) became the first certified 'Authenticity' in the European Union.
This European Cooperation Project aims to raise awareness among local policymakers, businesses and, ultimately, the general public, of both the value of IP and the damage caused by counterfeiting in European cities.
Following the signing of a Memorandum of Understanding between the Hellenic Industrial Property Organisation (OBI) and the Municipality of Thessaloniki, in cooperation with the Metropolitan Area of Thessaloniki, the Chamber of Tradesmen, the Economic chamber of Thessaloniki and the Chamber of Small and Medium-Sized Companies of Thessaloniki, a series of IP-related awareness-raising activities will take place locally over the next two years in the newly certified Authenticity.
The OBI has already developed a mobile application named 'Authenticity Thess' (available for both Android and iOS). It allows anyone to report, in real time, the production or marketing of counterfeits or pirated goods to the Municipal Police, the competent local Authority. This application is already available and is directed at the citizens and visitors of Thessaloniki.
Thessaloniki is Greece's second city, in terms of population, as well as being the second largest port in the country. With its dynamic economic activity, Thessaloniki is also one of the biggest educational centres in south-eastern Europe and a well-known city for culture and tourism.