News
March 26, 2021 News
The Intellectual Property in Education network endorsed by the European Parliament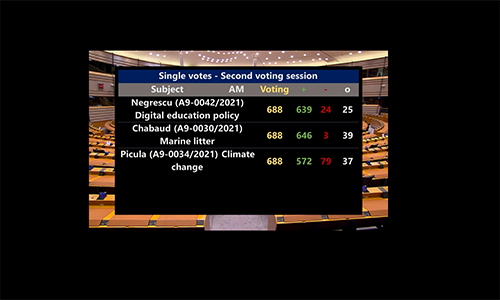 Members of the European Parliament with overwhelming majority welcome and endorse the Intellectual Property in Education network managed by the EUIPO
On 25 March, the European Parliament voted on the Resolution on Digital Education Policy which includes support for IP and explicitly endorses the IP in Education network managed by the EUIPO.
Paragraph 19 of the Resolution: Underlines the need to recognise the legal and ethical principles related to intellectual property in the context of the increased creation and dissemination of educational digital content; welcomes and endorses the Intellectual Property in Education network managed by the European Union Intellectual Property Office and encourages the development of Intellectual Property-related skills among learners and teachers; recalls the exception to copyright with respect to the use of works and other subject matter in digital and cross-border teaching activities laid down in Article 5 of Directive (EU)2019/790;
The Resolution welcomes the Commission's Digital Education Action Plan for 2021-2027. After having passed the CULT Committee on 25 February, it was now adopted in Plenary with huge support of MEPs, where 639 voted for it, only 24 against and 25 abstentions. Please find here the full text and more information in the EP's press release.