News
January 27, 2021 News
Fifth high-level meeting on a joint strategy related to IP crime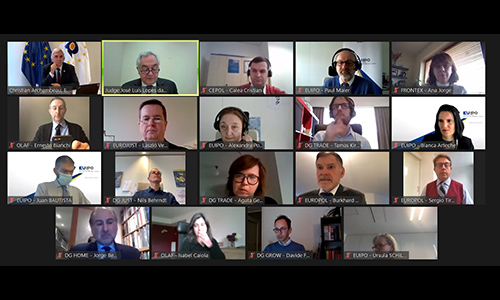 The Executive Director together with the Observatory met on Wednesday with high-level representatives of EU agencies and European Commission Directorates-General to discuss and align strategies to fight IP crime. This was the first time this meeting was held in an online format.
This fifth edition of the high-level meeting saw the presence of CEPOL's Head of Operations, OLAF's Deputy Director-General for Operations and Investigations as well as representatives from Europol, Eurojust, DG GROW, DG TAXUD and DG TRADE. Directors from FRONTEX and DG JUST as well as an expert on Organised Crime from DG HOME took part for the first time this year.
The meeting served to coordinate strategies and communication and focused on how to push IP crime up the political agenda in the context of the new EU institutional cycle. Participants also agreed to continue the work of the Technical Group on Data and Intelligence exchange that aims at improving IT systems for the exchange of data at EU level.
As a special guest, Judge Lopes da Mota, Senior Adviser for Justice of the EU Council Portuguese Presidency 2021, gave insights on the priorities of the Presidency relating to IP Crime.