News
November 09, 2016 News
Global scale of food fraud highlighted in INTERPOL-Europol report
INTERPOL-Europol report report published last week...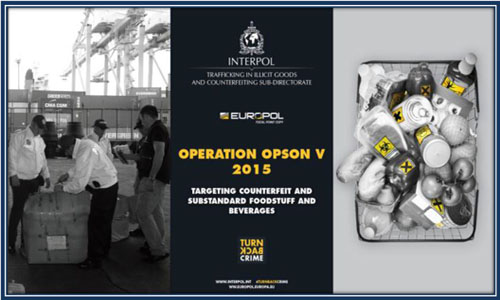 The final results from the joint INTERPOL-Europol operation Opson V targeting counterfeit food and drink have shown condiments as the most faked or illicitly traded products, representing 66 per cent of all seizures.
The report published last week shows fruit and vegetables as the second most counterfeited category, with alcohol remaining a high-risk product with more than 385,000 litres of fake drinks seized.
Among the condiments recovered were vegetable oil, vinegar, salt, pepper, spices and sauces. Significant seizures of falsely labelled olive oil were made in Italy, with around 423,000 litres of smuggled palm oil in Thailand and 1.5 tonnes smuggled mayonnaise in Colombia also reported.
In total nearly 5.5 million units of food and drink ‒ nearly 1.5 million litres and more than 11 tonnes – were seized at shops, markets, airports, seaports and industrial estates during the four months (November 2015 - February 2016) that Operation Opson V ran across 57 countries.
In addition to a breakdown of the results, the report also identifies new modus operandi used by criminals in addition to a range of case studies.
See full report here.
Source: INTERPOL