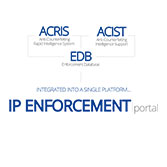 What is the IP Enforcement Portal?
03 June 2019
The Portal is an interactive, reliable and user-friendly tool for EU IPR enforcement, serving as a secure communication tool between all related parties: rights holders (and/or their legal representatives), EU enforcement authorities, the EU Commission and its EU delegations around the world.
The IP Enforcement portal is the integration of the Enforcement Database (EDB), the communication hub between rights holders and enforcers, the Anti-Counterfeiting Intelligence Support Tool (ACIST) and the Anti-Counterfeiting Rapid Intelligence System (ACRIS).
The new portal acts as the single EU platform to deal with EU IP enforcement matters, handling all necessary communications between rights holders and enforcers, and providing a central access point for many searchable databases of IP-related material, including tools such as TMview and DesignView.
How to register?
As a rights holder you will need a valid registered trade mark or a valid registered design within the European Union. Legal representatives can request an account for their clients, indicating a trade mark or design (European Union or national). In order to request an account, follow
this link.
As an enforcer, please email us at
IPEnforcementPortal@euipo.europa.eu
to request an account.