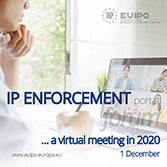 The IP Enforcement Portal Forum — a virtual meeting in 2020 for the IP enforcement community
30 October 2020
Invitation to participate in the 2020 IP Enforcement Portal Forum, to be held as a virtual meeting on 1 December.
The IP Enforcement Portal Forum brings together the users of our tool, rights holders and enforcement authorities from all the EU Member States, as well as representatives from the European Commission and Europol, to meet every 2 years and exchange ideas and best practices, to see how their interaction can be improved and, to strengthen the role of the IP Enforcement Portal in this exchange.
This year, due to the COVID‑19 pandemic, the event will be held on 1 December as a virtual meeting via Zoom.
If you're looking to connect and network with the enforcement authorities of all the EU Member States and to share your IP enforcement experience with other rights holders facing similar challenges, don't miss this year's online IP Enforcement Portal Forum!
For more information and the agenda for this event, click on the forum's web page.
Participation in the IP Enforcement Portal Forum is free of charge. The deadline for registration is 24 November 2020. To register, please visit the registration page.
The only condition for rights holders is to have an account and at least one product in their portfolio. If you have not done so already, please register electronically on the Portal. Registration and use of the Portal are free of charge. You can register for the forum at the same time as you register to access the IP Enforcement Portal.
If you have any questions about the IP Enforcement Portal or the forum, contact us at: ipenforcementportal@euipo.europa.eu