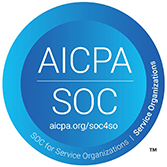 Successful IP Enforcement Portal SOC2 certification on data security
09 July 2020
The IP Enforcement Portal achieved SOC2 certification on data security. This achievement is the result of successful collaboration between the Digital Transformation Department (DTD) and the European Observatory on Infringements of IP Rights.
The IP Enforcement Portal, the EUIPO's interactive tool for EU enforcement of intellectual property rights achieved, for another consecutive year, a Service Organization Control (SOC) 2 certification for the data security of its Exchange Information module (ex EDB). This internationally recognised certification is based on a rigorous assessment, which includes a rigorous review of its security, availability, processing integrity and confidentiality. This achievement, that started with the first SOC 2 certification in 2014, is the result of a successful collaboration between two departments of the Office, notably the Digital Transformation Department (DTD) and the Observatory.
Due to the sensitive nature of the information contained in the IP Enforcement Portal, the security of data is an absolute priority. The SOC2 certification underlines the EUIPO's commitment to the highest standards of operational excellence, security levels, and system integrity, and to provide effective and secure tools to support the IP enforcement community in the fight against counterfeiting.