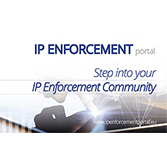 New enforcement authority joins the Portal
09 June 2020
The IP Enforcement Portal team is pleased to inform you that a new authority has joined the Portal.
The new authority is:
Financial and Economic Crime Unit (SDOE) Thessaloniki - Greece
We would like to remind rights holders who use the Portal that they need to SHARE their product information with new authorities so that they are able to view it. Rights holders can change the configuration, using the sharing criteria functionality, to allow product information to be shared automatically with each new enforcement authority that joins the Portal.
How many enforcement authorities are using the IP Enforcement Portal?
Since 2013, the enforcement community using the IP Enforcement Portal is growing steadily. There are now 67 enforcement authorities using the tool in their activities against counterfeiting and piracy. These 67 authorities include all the EU customs authorities, Europol, OLAF and police forces from Belgium, Bulgaria, Czech Republic, Germany, Estonia, Ireland, Greece, Spain, France, Croatia, Italy, Cyprus, Latvia, Malta, Netherlands, Portugal, Romania and Sweden. Each month the tool is accessed more than 300 times by enforcement authorities.
Any questions?
Check the Portal's Step-by-step user guide for rights holders on our landing page.
Contact the team at:
ipenforcementportal@euipo.europa.eu