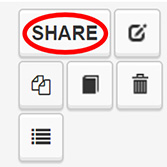 New enforcement authority joins IPEP
05 May 2021
New consumer-related market surveillance authority has joined the Portal.
The Malta Competition and Consumer Affairs Authority has joined the IP Enforcement Portal (IPEP). We warmly welcome this new market surveillance authority!
Calling all rights holders – remember to SHARE your product information with this new authority so that they can see it. To do this, you can use the SHARE button and add the authority.
Want to be more efficient? If you configure your profile using the sharing criteria functionality, your product information will be shared automatically with each new enforcement authority that joins the Portal. No need to worry that you will forget to do the update.
Market Surveillance Authorities (MSA)
The enforcement community using IPEP is growing steadily. Now, MSAs with access to the Safety Gate, the EU rapid alert system for dangerous non-food products, have been invited to join IPEP as well. The Malta Competition and Consumer Affairs Authority is the first to sign up and will soon be followed by others.
Any questions?
Check the Portal's Step-by-step user guide for rights holders on our landing page.
Contact the team at: ipenforcementportal@euipo.europa.eu