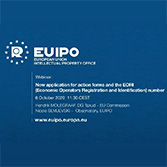 New AFA forms and EORI: the webinar recording
13 October 2020
The webinar recording is now available
You can now access the recording of the webinar we organised with the European Commission on 6 October 2020.
On 15 September 2020, the new Implementing Regulation (EU) 2020/1209 on Customs Regulation No 608/2013 entered into force. The EORI number is now mandatory for the submission, amendment and extension of customs applications for action (AFA). The IP Enforcement Portal has been modified accordingly, with new fields in the company details and legal representative information sections.
To further explain these changes, we organised a webinar with the European Commission, covering the nature of the EORI number, how to request one, when to include it in an AFA, the need for legal representatives to have one, how to update the EORI fields in the IP Enforcement Portal and more.
Click here to watch the recorded webinar on the EUIPO Academy Learning Portal.
For any questions on the EORI number or your account in the IP Enforcement Portal please don't hesitate to contact us at ipenforcementportal@euipo.europa.eu