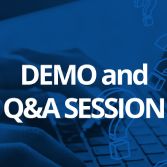 Join our next demo and Q&A session on the IP Enforcement Portal
07 March 2023
Our next live demo and Q&A session for rights holders and legal representatives will take place on 23 March at 15:00 CET.
Are you wondering how the IP Enforcement Portal can help protect your rights? What does it look like? Learn all you need to know from a demo of the tool's features followed by a Q&A session.
The IP Enforcement Portal team is inviting its community of rights holders and legal representatives to a walkthrough of the tool followed by a Q&A session.
When: 23/03/2023 at 15.00 CET.
Duration: 1 hour.
Please register to this free event before 22 March 2023 clicking on the link below:
The portal lets users exchange information with enforcement authorities via a series of features. In this Q&A session, we will go through these features together, explain how they help rights holders and their legal representatives to protect their IP rights and answer any questions that may arise.
Join our live Q&A session, where we will answer any questions you may have on the IP Enforcement Portal; or, listen in and learn from our answers to questions from others.
The session is free of charge. It is also open to potential users who would like to learn more about the tool and how it can help them with their activities.
If you have any questions, please email the team at: ipenforcementportal@euipo.europa.eu
Please share this invitation with anyone you think would be interested in following this session