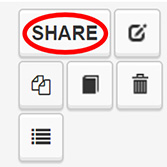 Eurojust has joined the IP Enforcement Portal (IPEP)
10 May 2021
Eurojust has joined the IP Enforcement Portal (IPEP). We warmly welcome prosecutors on board!
Calling all rights holders – remember to SHARE your product information with this new authority so that they can see it. To do this, you can use the SHARE button and add the authority.
Want to be more efficient? If you configure your profile using the sharing criteria functionality, your product information will be shared automatically with each new enforcement authority that joins IPEP No need to worry that you will forget to do the update.
Eurojust
The enforcement community using IPEP is growing steadily. Now, prosecutors have also been invited to join, starting with Eurojust, the European Union Agency for Criminal Justice Cooperation, that supports judicial coordination and cooperation between national authorities in combatting terrorism and serious organised crime affecting more than one EU country.
Any questions?
Check the Portal's Step-by-step user guide for rights holders on our landing page.
Contact the team at: ipenforcementportal@euipo.europa.eu