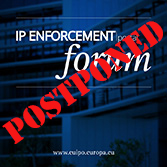 2020 IP Enforcement Portal Forum: postponed to 1 and 2 December
24 March 2020
On the 14 March, the Spanish government declared a 'state of alarm' over COVID-19, placing strict restrictions on freedom of movement and gatherings.
In light of these events the Office has decided to postpone the IP Enforcement Portal Forum 2020, originally scheduled for the 13 and 14 May, to the 1 and 2 December.
We would like to thank our user community for their support and commitment to the event. Registration remains open via the following link.