EUIPO Executive Director meets Commissioner Ms Elisa Ferreira
News
March 23, 2021 About the EUIPO
EUIPO Executive Director meets Commissioner Ms Elisa Ferreira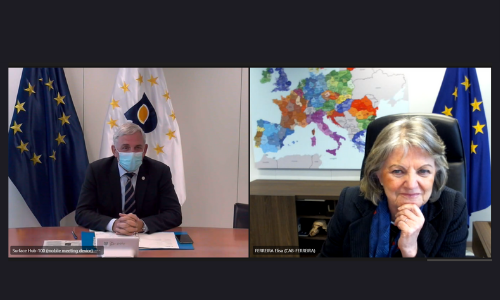 The Executive Director of the EUIPO, Christian Archambeau, held an online meeting with the European Commissioner for Cohesion and Reforms, Ms Elisa Ferreira, on 22 March 2021.
This is the first bilateral meeting between Mr Archambeau and Ms Ferreira, who took office on 1 December 2019.
Mr Archambeau presented the EUIPO's scope of activities under the EUIPO's Strategic Plan 2025. Particular attention was drawn to the initiatives to support SMEs and the initial results of the SME Fund launched on 11 January 2021, as a potential framework for cooperation. In addition, Mr Archambeau reinforced the commitment of the EUIPO to pursue ongoing collaboration with the European Commission on aspects of common interest and to explore future cooperation opportunities, notably with regard to GIs as a means to strengthen cohesion within the EU.