EUIPO – European Commission's DG GROW meeting
News
March 16, 2021 About the EUIPO
EUIPO – European Commission's DG GROW meeting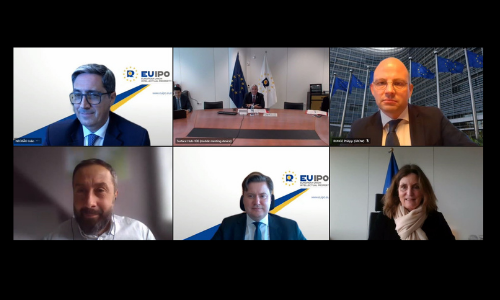 The Executive Director of the EUIPO, Christian Archambeau, held an online meeting with the Director-General of the Directorate-General for Internal Market, Industry, Entrepreneurship and SMEs (DG GROW), Kerstin Jorna, on 15 March 2021.
The aim of this meeting was to follow up on the matters raised during the last videoconference on 30 November 2020 in view of continuing to maintain regular exchanges on the implementation of the IP Action Plan launched by the European Commission on 25 November 2020 and the Strategic Plan 2025 of the EUIPO.
On this occasion, they took stock of the good progress made by the SME Fund and stressed their commitment to focus on joint potential initiatives to support Innovation and more particularly SMEs as from 2022. Other items discussed were the upcoming Designs Reform and GIs.
During the meeting, the achievements of the European Union Intellectual Property Network (EUIPN) in the last 10 years and how it will be used for the development of the IP policy in Europe in the future were briefly addressed.