30th User Group Meeting at EUIPO
News
March 12, 2021 About the EUIPO
30th User Group Meeting at EUIPO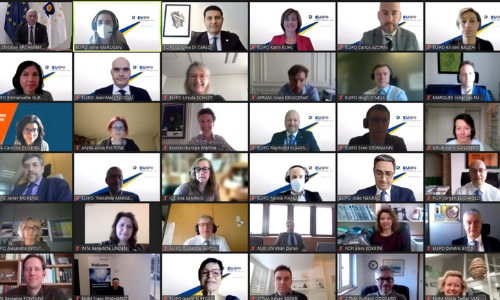 On 11 and 12 March the User Associations which are part of the EUIPO User Group participated to the 30th User Group Meeting, held in two online sessions.
This event is an official forum in which representatives from the User Group gather to exchange views on EUIPO's strategic activities and initiatives, and discuss procedures, practices and tools of those activities with a direct impact on users. Due to the current pandemic situation, both sessions of the meeting were held virtually.
The first online session was held on 11 March. The Executive Director, Mr. Christian Archambeau, addressed the audience by illustrating the important results reached by the Office last year and presented the new initiatives for 2021, including, among others, a new SME portal and a new easy e-filing tool. The Deputy Executive Director, Mr. Andrea Di Carlo, presented the latest development of the ongoing initiatives in support of SMEs, which contributes to help preserving SMEs' innovation and creativity.
The session included an overview of the latest cases from the Court of Justice and the Boards of Appeal on weak marks, followed by a presentation on the AG2Review initiative, aimed to enhancing the quality in first objection letters and consequently the final results on Absolute Grounds examination. The discussion was then focused on the state of play of the 2021 Guidelines edition. The current state of play of the measures undertaken in response to the possible attempt to circumvent the requirement of mandatory representation before the EUIPO were presented and followed by the latest news on leasing of EUIPO credentials. The first session ended by an update on the developments related to the impact of Brexit on the Office's practice.
The second online session, held on 12 March, aimed at presenting the state of play of the European Cooperation Projects under SP2025. This session constituted the consultation with user representatives on the project definition of the CP13 and CP14, within the scope of Art. 152(2) EUTMR. The outcome of the European Cooperation Projects Working Groups held 22 February to 5 March was also presented. The discussion continued with a presentation of the international cooperation activities and projects.
The User Associations were introduced to the SP2025 Digital Transformation Programmes, including cloud computing, modernization of online service and applications, security, fee management, AI, blockchain and terminology management. And a presentation on the ETMD Education Programme for Paralegals closed the second session of the 30th edition of this forum.
The Office continues to do its utmost to maintain its direct channels of communication and discussion with the User Group adapted to the current exceptional circumstances and through virtual platforms.
For more details, you may contact the User Associations team in the Institutional Relations Services in ICLAD (UserAssociations@euipo.europa.eu).