News
October 28, 2020 About the EUIPO
9th TM5 Annual Meeting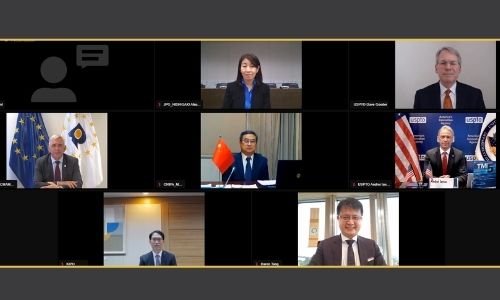 On the 26 and 27 October 2020, the Trade Mark 5 (TM5) partners celebrated their 9th Annual Meeting online, which involved discussions on the partners' respective projects. The USPTO was the host and successfully managed the move from a face-to-face to an online meeting.
TM5 is the name given to the multilateral cooperation forum of the five largest trade mark offices in the world, which includes The China National Intellectual Property Administration (CNIPA), the European Union Intellectual Property Office (EUIPO), the Japan Patent Office (JPO), the Korean Intellectual Property Office (KIPO), and the United States Patent and Trademark Office (USPTO). The World Intellectual Property Organization (WIPO) was present as an observer.
The Executive Director of the EUIPO, Mr Christian Archambeau, congratulated USPTO for the efforts made this year adapting from a face-to-face to an online meeting taking into account the challenging time differences. He also commended all the partner offices for the remarkable cooperation this year in the TM5 forum.
On the first and second day, the EUIPO reported on the status of the cooperation projects that it leads and co-leads in the TM5, for example, 'User Association Involvement' (EUIPO/JPO), 'Fraudulent Solicitations' (EUIPO/USPTO), 'Priority Rights' (EUIPO/CNIPA) and 'Risk Management' (EUIPO).
The EUIPO presented a new initiative within the 'User Association Involvement' cooperation project aiming at benchmarking the partners' practices and initiatives in promoting IP protection for SMEs.
The partners approved a new project, the 'Joint Communication Action' co-led by the KIPO and the EUIPO, with the objective to further improve communication to users about TM5 activities.
The TM5/ID5 partners adopted a joint message on the COVID-19 response in pursuing the objective of strengthening protection of trade marks and designs in an increasingly technological environment and providing innovative and user-friendly services for applicants.
The TM5 partners also agreed that the CNIPA would be the host and secretariat for the 2021 TM5 forum.
The third day (28 October) was dedicated to a user session where TM5 partners and user associations discussed the latest developments in each office and the measures taken in response to the COVID-19 pandemic. The user associations APRAM and AIPPI represented European Union users and were invited by the EUIPO playing an active role in the user session.