The European DIGITAL SME Alliance teams up with the EUIPO
News
September 28, 2020 About the EUIPO
The European DIGITAL SME Alliance teams up with the EUIPO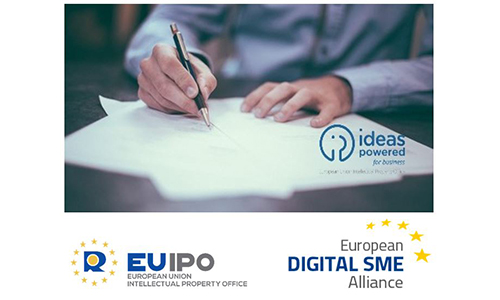 The EUIPO and the European DIGITAL SME Alliance, have signed a collaboration agreement to develop and implement joint initiatives to support small and medium enterprises (SME).
The European DIGITAL SME Alliance is the largest European network for small and medium-sized enterprises in the field of information technology, representing the interests of about 45,000 digital SMEs. The alliance is the shared effort of 28 national and regional SME associations from across Europe, to put digital SMEs at the centre of the EU agenda.
The agreement between the EUIPO and the European DIGITAL SME Alliance aims to generate a positive change of mindset of the digital SMEs towards intellectual property (IP). Innovation is the cornerstone of most digital SMEs; hence the importance of promoting the benefits of protecting innovation assets as intellectual property rights (patents, designs, trade secrets, etc.) among these enterprises.
As part of the EUIPO's Strategic Plan 2025, the SME Programme, under the 'Ideas Powered for business' brand aims to support and empower SMEs on their business journey. The recently launched 'Ideas Powered for business' hub offers made-to-measure information to SMEs, as well as the possibility to sign up for free personalised legal advice on their intellectual property questions.
With the shared objective of providing support to SMEs, the collaboration will include a set of training initiatives such as webinars and training modules and the co-design of a guide for SMEs to stimulate IP knowledge.