Third edition of the ETMD Education Programme
News
May 22, 2020 About the EUIPO
Third edition of the ETMD Education Programme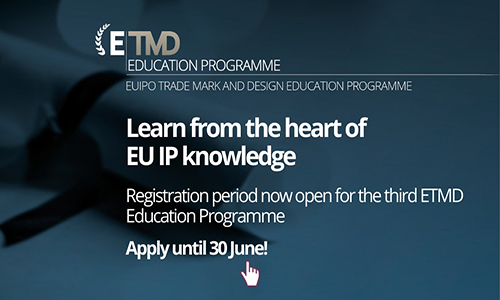 LEARN FROM THE HEART OF EU IP KNOWLEDGE
Following the success of the first two editions, which saw the participation of more than 100 IP practitioners from 26 EU Member States, we are pleased to inform you that the EUIPO is launching the third edition of its tailor-made Trade Mark and Design Education Programme (ETMD EP).
The ETMD EP is held annually and focuses on interaction between the EUIPO and IP practitioners in trade mark and design registration and protection. The programme is delivered by leading IP professionals, academics and EUIPO staff.
The programme will be held in English only and will run from September 2020 to June 2021, with approximately 150 hours of tuition, combining e-learning, webinars and two three-day workshop sessions at the EUIPO in Alicante, Spain. It concludes with a final examination consisting of both a written and an oral exam; the latter will take place at the EUIPO in Alicante. Successful candidates will be awarded an EUIPO certificate.
For more information about the programme, provisional dates and the tuition fees, visit the programme's website.
Registration will be open from 18/05/2020 until 30/06/2020, unless the maximum number of 60 places is filled before the closing date.