News
April 30, 2020 About the EUIPO
EUIPO - JURI meeting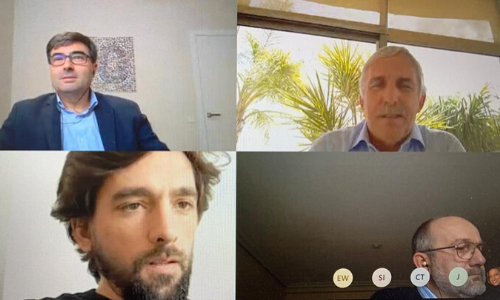 The Executive Director of the EUIPO, Christian Archambeau, has held a video conference with Adrián Vázquez, the new Chair of the Legal Affairs Committee of the European Parliament (JURI).
The meeting established initial contact with Mr Vázquez, who took up his role on 17 February 2020.
The Executive Director presented EUIPO's scope of activities and the initiatives in the forthcoming Strategic Plan 2025. Information in relation to the EUIPO's and the European Parliament's response to the current COVID-19 pandemic was also exchanged.
Mr Archambeau and Mr Vázquez also highlighted a number of cooperation possibilities to face the challenges of European citizens and businesses within the field of IP.
Discussion topics included: simplification for businesses, specifically SMEs, in accessing information about and registration of intellectual property rights; geographical indications; artificial intelligence; enforcement and the fight against IP crime; domain names; and the amendment of the Designs Regulation.
Mr Vázquez confirmed the commitment of the JURI Committee to pursue good collaboration with the EUIPO, and their interest in maintaining exchanges of views in a number of the issues, creating opportunities for such discussions soon.