IP Tertulia at the EUIPO Luxembourg Office
News
November 26, 2019 About the EUIPO
IP Tertulia at the EUIPO Luxembourg Office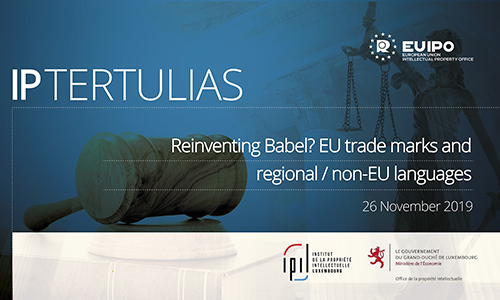 On Tuesday 26 November 2019, the EUIPO Luxembourg Office, in collaboration with the Intellectual Property Office in Luxembourg and the Institut de la Propriété Intellectuelle de Luxembourg (IPIL), hosts an IP Tertulia titled 'Reinventing Babel? EU trade marks and regional / non-EU languages'.
The roundtable will address the question of knowledge of regional or non-official EU languages by the European public and the proofs of such knowledge. Two speakers will address different aspects of this topic:
Georgios Gryllos (Référendaire Cabinet Judge M. Dimitrios Gratsias, General Court, EU) – relating to absolute grounds of refusal.
Arnaud Folliard-Monguiral (Team Leader, Litigation Service, EUIPO) – relating to relative grounds of refusal.
The main topic will be preceded by a short talk by Pablo Mohr (IPIL) on some of the linguistic disparities in terminology commonly used in the field of intellectual property.
This series of roundtables ('tertulias' in Spanish) aims at gathering IP professionals and experts in the Luxembourg region. This is the third IP Tertulia organised at the Luxembourg Office, following the event held in June 2019.
The IP Tertulia will take place at the EUIPO Luxembourg Office (2 rue Jean Monnet, Luxembourg) at 19:00. Given the limited availability of places, attendance is by invitation only.