The Harmonised Database celebrates its first full year
News
February 15, 2016 EU Intellectual Property Network
The Harmonised Database celebrates its first full year
This month marks the one-year anniversary of the Harmonised Database (HDB) including data from every national and regional IP office in the European Union.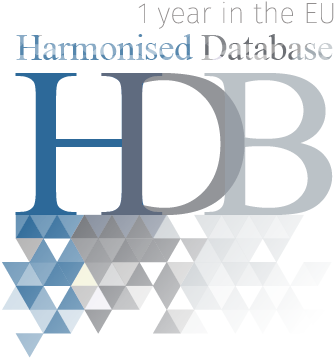 Work on the HDB began in 2009 with the goal of creating one common database of pre-approved goods and services and developing an organisational system known as Taxonomy to help users find the terms they need quickly and efficiently.
Seven years on, and the HDB is now the world's largest multilingual database of descriptions of goods and services. It has nearly 1.5 million terms in 23 languages, with more added all the time using terminology taken from real applications. The HDB incorporates the Nice Classification system; the ID list of pre-approved list of terms from the TM5 IP offices of China, Japan, OHIM, South Korea and the United States; and the Madrid Goods and Services – the pre-approved database of terms from WIPO for Madrid applications.
All HDB terms are pre-approved, which means that they are automatically accepted by every EU national and regional IP office and OHIM. For example, last year saw almost 80% of goods and services terms automatically accepted by OHIM.
The HDB aids trade mark offices in the EU by allowing them to draw from one EU-wide database when they validate, examine and translate lists of goods and services provided by applicants.
The benefits of the Harmonised Database explained
Trade mark applicants also have much to gain from using the HDB. Here are some of the most compelling reasons to do so:
Guaranteed acceptance of terms
Classification experts from each EU office have checked every term in the HDB. That means that if you use an HDB term there is no risk of classification objections to your CTM or EU national trade mark application.
Market terms
The HDB has been constructed from lists of goods and services filed in real applications, meaning that the database is in line with market realities. It will be revised continually to include the latest Nice Classification updates as well as new terms that reflect business trends. Users can contact OHIM or national or regional offices to suggest new terms to be added to the database or terms to be removed.
Saves time and resources
All HDB terms are pre-approved, which means that they are automatically accepted by every EU national and regional IP office and OHIM. Users can avoid delays and save money on translations when they want to expand their protection geographically because lists of goods and services are translated automatically in the HDB. Users who fulfil certain conditions, such paying up front, can also have their applications published faster with our Fast Track for trade marks when they use terms from the HDB.
Greater security and predictability
The Taxonomy structure used by the HDB allows users to understand fully the scope of protection offered by general terms. Taxonomy is based on the Nice Classification and is designed to be simple and accessible, allowing users without any prior knowledge of classification systems to work their way through the hierarchical structure to find the goods and services they need. General terms appear at the top, with more detailed terms (covered by a general description) underneath. Users are assured of the same scope of protection when they use HDB translations to expand geographically.
Complements pre-clearance guidance
Users who want to check whether there may be possible conflicts with prior trade marks can opt to use the goods and services Similarity tool, which sees participating IP Offices give their opinion on the degree of similarity between goods and/or services. Because the Similarity tool only uses terms from the HDB, users can obtain more accurate information about possible conflicts before they commit to a product or service launch.
Timeline: A history of the HDB
2010
Taxonomy project begins

January 2014
Terminology Maintenance Console launched to maintain and update the HDB

January 2015
TM5 ID list fully covered

February 2015
The HDB is pre-accepted in every IP office in the EU
2009
Steering group begins work on the HDB

2012
Taxonomy project completed

November 2014
Fast Track procedure offered to HDB users


July 2015
Madrid Goods and Services terms added

January 2016
Most recent HDB update with latest version of Nice Classification
Learn more about how you can use the HDB to classify you goods and services.
Upcoming webinars
How to find the best HDB term for your CTM (EN)

- 08/03/2016

Similarity Tool – how to anticipate conflict between goods and services in the HDB (EN)

- 23/02/2016

A fresh look at recent communications on classification (DE)

- 23/02/2016