News
September 07, 2022 Learning
Webinar: Non-Fungible Tokens and the metaverse on 13 September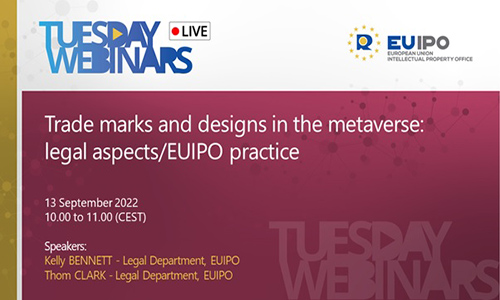 Join us on Tuesday 13 September at 10:00 (CEST) for our webinar Trade marks and designs in the metaverse: legal aspects/EUIPO practice.
The increase in usage of NFTs (digital representations of real-world objects) and the expansion of the metaverse (its "cyberspace") in recent years offers huge opportunities for businesses. As we know, NFTs can be bought by collectors and are usually sold online, therefore they can be protected by IP rights, which raise some interesting questions.
This webinar will provide you with an overview of the metaverse and NFTs, followed by an in-depth look at the EUTMs and RCDs most impacted by this new world. It will also give you a comprehensive insight into registrations proceedings in this area.
The EUIPO has been registering applications using NFTs and the metaverse at the EUIPO since last year.
So far, we have registered:
1,277 Applications using NFTs in 2021
1,157 Applications using NFTs in 2022
205 Applications using metaverse in 2022
The Office's approach to the classification of terms in relation to virtual goods, NFTs and the metaverse was published earlier this year.