News
March 16, 2022 About the EUIPO
Past meets present: how AI is helping shape the future of IP (and vice versa)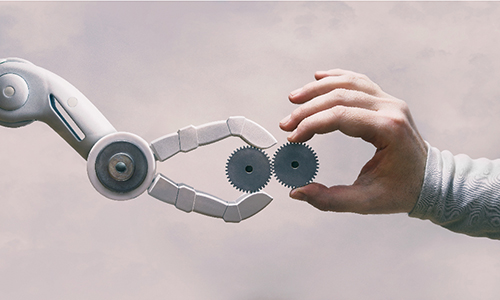 By Eleonora Rosati
Intellectual property (IP) has technology in its DNA. Throughout history, IP concepts have been continuously challenged by the latest technological advancements. Just think, as examples, of the invention of the printing press, computer programs, recording devices, the internet, and all their implications for IP law. It is thus not surprising that the emergence of Artificial Intelligence (AI) has been also having an impact on key IP concepts and affecting how professionals undertake their daily tasks.
This said, AI raises unprecedented questions and is currently at the centre of intense legislative, case law, and policy discussions and developments. In relation to the latter, it is worth recalling that the European Commission recently unveiled a package of initiatives aimed at developing a "A European approach to artificial intelligence".
AI as an author or an inventor?
In several jurisdictions around the world questions have arisen regarding whether the notions of 'author' and 'inventor' – cornerstones of, respectively, copyright and patent law – can be intended as encompassing not just humans but also machines and AI.
Starting from 'author', in the United States the Copyright Office has already taken the stance that works by "a machine or mere mechanical process that operates randomly or automatically without any creative input or intervention from a human author" shall not be protected. It is reasonable to assume that this approach will be followed in Europe too, especially considering that the Court of Justice of the European Union requires, for copyright protection to arise, that a work "reflects the personality of its author, as an expression of [their] free and creative choices".
Turning to 'inventor', it seems that things are not that dissimilar to copyright. The European Patent Office (EPO) recently confirmed that the legal concept of inventorship requires a human being to be the inventor. In December 2021, the EPO Legal Board of Appeal held that, under the European Patent Convention, an inventor designated in a patent application must be a human being.
Those indicated above are not the only IP issues surrounding AI. For example, under copyright law questions have arisen whether machine learning and AI development can be unduly hampered by legal restrictions. Recently, the European Union adopted legislation providing for new copyright exceptions that allow preparatory activities that are functional to these – that is 'mining' of large quantities of text and data – to be undertaken without copyright owners' permission, provided that certain conditions are satisfied.
AI as a tool for the IP profession
Like all technologies that came before it – just to refer to some of the most recent examples, think of the typewriter, the personal computer, and the internet – AI also has had an impact on work and how one's own duties are performed.
IP professionals have been also increasingly relying on AI tools. The European Union Intellectual Property Office ( EUIPO) itself has been conducting its operations with the aid of the latest AI-based technologies. Image search and machine translation, which are based on AI, are for example part of the EUIPO tools and e-services .
Starting with AI-empowered image search , by uploading one image when searching trade marks and up to seven images when searching designs, eSearch plus allows one to find similar-looking trade marks and designs thanks to the analysis of colours, shapes, and textures.
Turning to machine translation at the EUIPO, eSearch Case Law allows one to retrieve decisions of the EU courts and the EUIPO and automatically translate them in 31 language combinations. Since the service was introduced in 2018, over 90 000 automatic translations have been downloaded from eSearch Case Law and more than 206 000 decisions have been automatically translated and made available to our users.
AI tools are also being increasingly used in enforcement initiatives, for example to detect fakes and other unlawful products and content as indicated in the EUIPO's paper on Automated Content Recognition .
AI and IP into the future
Although the term 'artificial intelligence' was coined in 1956 at a conference at Dartmouth College in New Hampshire, we are still in the early days of AI: its potential is yet to unfold fully. Nevertheless, what is already evident in all this is that AI has been forming a very close relationship with IP law: from a substantial standpoint, it has been raising novel and intriguing questions; from a professional perspective, AI has been changing the ways in which we carry out our daily tasks. It is true that the future is yet to be written, but IP law and the IP profession will likely play a significant role in doing so.
Eleonora Rosati is an Italian-qualified lawyer with experience in copyright, trade marks, fashion and internet laws. Dr Eleonora Rosati is a Full Professor of Intellectual Property (IP) Law, Director of the Institute for Intellectual Property and Market Law (IFIM), and Co-Director of the LLM in European IP Law at Stockholm University. She is also Of Counsel at Bird & Bird and is the author of several articles and books on IP issues.
This article was published in the March 2022 issue of Alicante News.