News
September 09, 2022 News
DesignEuropa Talks: 20 October 2022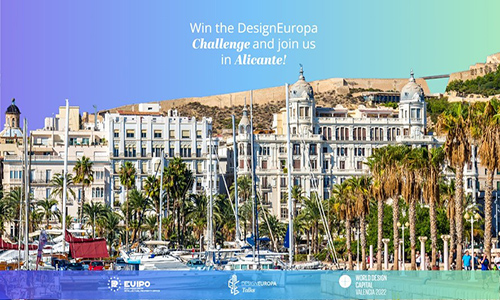 The EUIPO will host the first ever DesignEuropa Talks on Thursday 20 October 2022 at the EUIPO campus in Alicante, Spain.
This one-day event will bring together distinguished experts from different fields such as design, art, business, higher education and intellectual property rights who have worked on or thought about design in a variety of perspectives and disciplines.
Don't miss the chance to participate in active discussions and get expert advice from our panel sessions covering different aspects of design so you will leave feeling creatively inspired!
The draft agenda can be found here.
For more details on the DesignEuropa Talks and to register, please visit the conference page. Registration is on a first-come, first-served basis. All face-to-face participants must register to attend the event.
The event will also be streamed on the EUIPO YouTube channel.
The Gamification Campaign is now live!
For this occasion, the EUIPO has launched a gamification campaign today for all individuals who studied or are currently studying design, art or fashion.
Participants will compete to earn points based on actions suggested on the platform. From answering a series of quizzes to using the tools to share posts on social media, this campaign is sure to provide much entertainment and increase your knowledge of design, IP and all the exciting work we do here at the EUIPO!
The top five participants to collect the most points will enjoy a paid trip to Alicante (flights and hotel accommodation with breakfast included) and VIP invitation to the DesignEuropa Talks.
All you need to do is accept the DesignEuropa challenge! Then participate in as many actions as you can and collect points in the process.
For more details, visit DesignEuropa Awards website or see the rules of participation.
*The challenge is open for EU citizens who studied or are currently studying design, art or fashion and resident in the EU.