Webinar: Presenting the Grants 2021 call for proposals
News
May 04, 2021 Learning
Webinar: Presenting the Grants 2021 call for proposals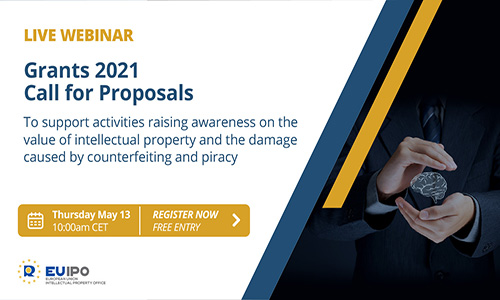 On 13 May the EUIPO Observatory will hold an information session on the Grants 2021 call for proposals supporting activities raising awareness on the value of Intellectual Property and the damage caused by counterfeiting and piracy, the fourth such call for proposals launched by the Office.
Who is eligible for funding? How and when can I apply?
The speakers will provide a general overview of the grant's objectives and priorities, the programme's budget and estimated timeline, and describe the application and selection process. During the presentation, participants will be able to submit questions to the experts through the chat. A Q&A section will be published on the dedicated grants webpage afterwards, based on the questions raised by the audience.
You can register for the webinar here and join the session on Thursday 13 May at 10.00 CET.
registration link: https://euipo.blumm.it/event/ar/1/grants-webinar-2021 - those who register will receive in their confirmation email the link to access the webinar.