eComm is THE way to communicate with the EUIPO
News
February 26, 2021 About the EUIPO
eComm is THE way to communicate with the EUIPO
Learn how to set alerts to not miss important notifications
The EUIPO aims to provide state-of-the-art communication tools to its users. Decision No EX‑20‑9 means that from 1 March 2021 eComm will become the way to communicate with the EUIPO in EUTM and RCD procedures.
All EUIPO users who previously selected 'Fax or Post' as communication mode with the Office, will now receive e-communications, which are faster than postal mail and safer than fax, in all matters related to EUTMs and RCDs.
New EUIPO e-communications can be found in the 'Communications' section of the User Area under the 'New' tab: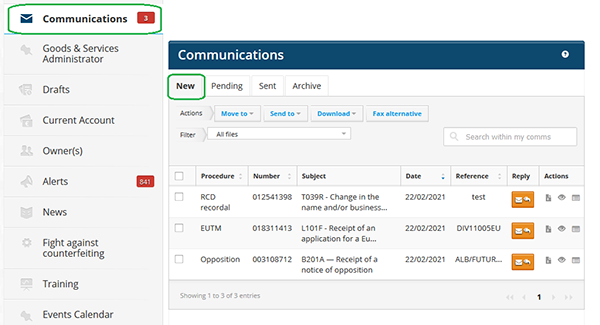 Use e-reply to communicate with the EUIPO
Click on the 'Reply' button

to reply quickly and easily to official EUIPO notifications. This is available for almost all e-communications – when it is not available the 'Fax alternative' option can be used (soon to be renamed 'Correspondence alternative').
Don't miss important notifications
The EUIPO recommends all users set an alert to be informed by email when an official notification is sent to the User Area.
To set the alert:
click on 'Options' and enter an email address in the space indicated;
click on 'Settings' to enable email alerts (see images below).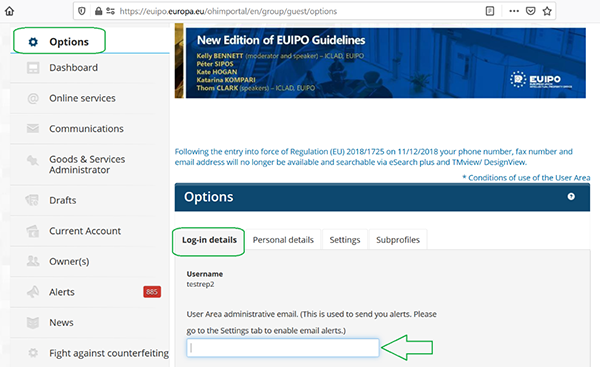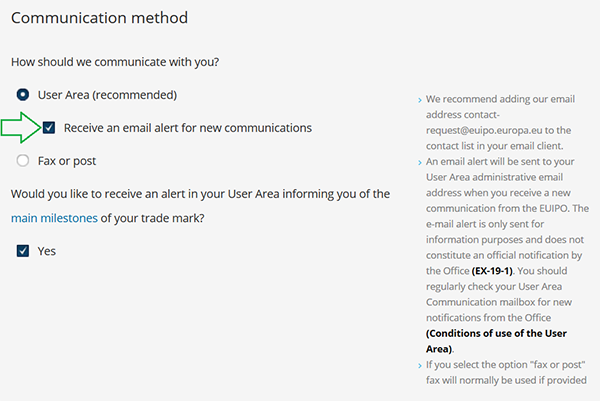 For more information on alerts take a look at the following links: