Executive Director meets Director-General and Deputy Director-General, DG GROW
News
December 03, 2020 About the EUIPO
Executive Director meets Director-General and Deputy Director-General, DG GROW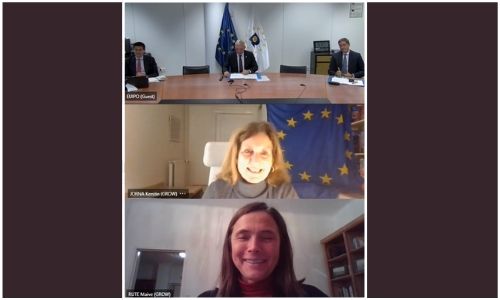 The Executive Director of the EUIPO, Christian Archambeau, has met the Director-General of the Directorate-General for Internal Market, Industry, Entrepreneurship and SMEs (DG GROW), Kerstin Jorna, via video-link. The Deputy Director-General, Maive Rute, and the Deputy Executive Director of the EUIPO, Andrea Di Carlo, also attended the meeting.
Mr. Archambeau gave an overview of the latest key developments both at the Office and in the context of the Strategic Plan 2025. Information on the initiatives in relation to the EUIPO's response to the current COVID-19 pandemic was also exchanged.
The contribution of the EUIPO to the implementation of the European Commission's Action Plan on Intellectual Property, published on 25 November within the activities foreseen under the Office's Annual Work Programme 2021 and the Strategic Plan 2025 was discussed. The European Commission and the Office exchanged views on a number of key aspects on which joint effort will be necessary: focus on initiatives to support SMEs, EU IP info centre, how to fill the protection gaps for IP rights and support digitalisation and the greening of the EU economy among others.