Executive Director meets EDPS
News
October 20, 2020 About the EUIPO
Executive Director meets EDPS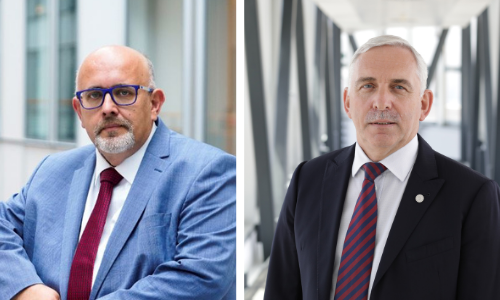 The Executive Director of the EUIPO, Christian Archambeau, held a virtual meeting with the European Data Protection Supervisor, Mr. Wojciech Wiewiórowski on 19 October 2020.
This is the first bilateral meeting with the Supervisor, who took office on 5 December 2019.
The aim of this meeting was to enhance cooperation between EUIPO and the European Data Protection Supervisor (EDPS) and to discuss the latest developments and activities in terms of data protection.
Discussions included the international data transfers and the consequences of the recent CJUE decision in the Schrems II case. The EDPS acknowledged the difficulties that the EU institutions and agencies may face in the current context when leveraging with business requirements. On remote working and COVID-19, the Executive
Director explained that the Office took opportunities of the lessons learned brought by the pandemic, such as the use of new tools and the organisation of hybrid events and meetings. The EDPS mentioned the challenges reside in the change of work culture and the loss of personal contact that brings added value.
The Executive Director stressed the commitment of the Office to ensure compliance with the EUDPR and to support the EDPS while continuing strengthening cooperation between both institutions.
Mr. Wiewiórowski and the ED agreed to continue sharing information, training and experience of EUIPO as an example to other EU Institutions and Agencies.
A series of remote training sessions will follow in the next days giving the Office the unique opportunity to learn more about relevant data protection topics.
With this bilateral meeting and the series of cooperation activities organised with the EDPS, the Office is actively seeking to solidify the value of data protection and to lead by example in this area.