EUIPO Executive Director meets JURI Committee Chair
News
September 11, 2020 About the EUIPO
EUIPO Executive Director meets JURI Committee Chair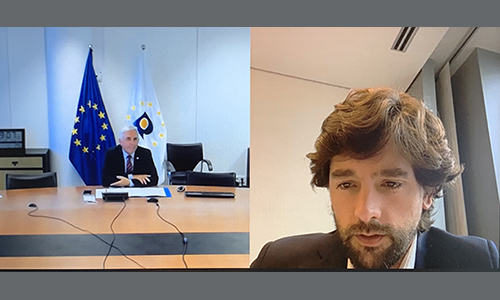 The Executive Director of the EUIPO, Christian Archambeau, met Adrián Vázquez Lázara, the Chair of the Legal Affairs Committee (JURI) of the European Parliament, on 10 September 2020.
The meeting, which took place via videolink, followed up on the issues raised during the first bilateral meeting held on 28 April 2020. In particular, discussions focused on the initiatives taken to support SMEs within the context of the COVID-19 crisis, the amendment of the Designs Regulation, domain names, Geographical Indications (GI), Artificial Intelligence linked to IP as well as enforcement and the fight against IP crime.
Mr Archambeau and Mr Vázquez expressed their interest in continuing regular exchanges, with a view to maintaining a closer cooperation between the EUIPO and the European Parliament.
Mr Archambeau has engaged in a series of bilateral meetings with EU representatives. Through these contacts, the Office is actively seeking to contribute to the European Commission and EU Institutions' policies within the field of IP rights and their protection.