Virtual high-level meetings in the absence of WIPO General Assemblies in Geneva
News
July 24, 2020 News
Virtual high-level meetings in the absence of WIPO General Assemblies in Geneva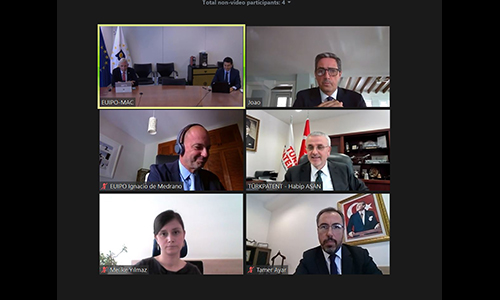 This year, the customary high-level meetings organised annually in the margins of the WIPO General Assemblies in Geneva are taking place in a new virtual format. This is in line with the EUIPO's effort to adapt to the exceptional situation created by the COVID-19 pandemic and at the same time continue strengthening the international cooperation despite the new global challenges.
During July, an EUIPO delegation, led by the Executive Director, Mr Christian Archambeau, is holding a first wave of virtual technical bilateral meetings with the heads of non-EU IP offices, namely WIPO, IP Australia, INAPI Chile, SIC Colombia, JPO Japan, IPPD Jordan, IPONZ New Zealand Turkpatent Turkey and USPTO United States. A second round of virtual high-level meetings is planned to take place in September-October 2020.
During these virtual gatherings, the EUIPO delegation reviews the current status of the technical cooperation projects with our partners and jointly agree on future steps on various aspects of the technical bilateral collaboration, including integration with the EUIPN tools, the implementation status of the EU-funded projects and TM5 and ID5 cooperation projects.
As part of the Strategic Plan 2025, these meetings fall within Strategic Driver 1, Goal 1.1, Initiative 3, towards the development of 'Enhanced engagement with global partners for the extension of common tools and practices'.