DesignEuropa 2020 ceremony postponed
News
July 13, 2020 News
DesignEuropa 2020 ceremony postponed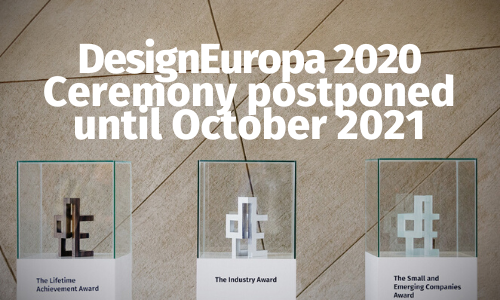 Due to the COVID-19 situation, the DesignEuropa 2020 ceremony, organised by the EUIPO, which was due to have been held in Eindhoven, The Netherlands, on 20 October 2020, has been postponed.
The ceremony will now take place in Eindhoven in October 2021.
This decision has been taken in close collaboration with the Dutch authorities and with the organisers of Dutch Design Week, during which DesignEuropa 2020 was to have been held.
The safety, health and welfare of all our guests, finalists and jury members is of the utmost importance to us. After careful consideration and close monitoring of the current situation, we decided to postpone the ceremony by 12 months, so it could take place during Dutch Design Week 2021.
We would like to thank all our jury members, the Dutch Ministry for Economic Affairs and Climate Policy, and our colleagues in the Benelux Office for Intellectual Property for their support at this time.