EUIPO User Group meeting – Virtual session
News
April 29, 2020 About the EUIPO
EUIPO User Group meeting – Virtual session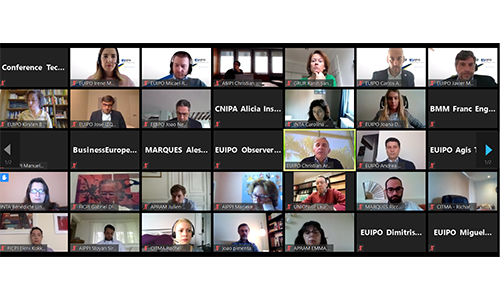 The EUIPO is hosting the 28th User Group meeting on 29 April 2020.
For the first time, the meeting will take place virtually, with a series of online thematic blocks. Originally scheduled for 12-13 March, the EUIPO decided to postpone the meeting in view of the rapid escalation of the COVID-19 outbreak.
26 representatives from 15 user associations are taking part in the meeting, which will focus on the assessment of results and benefits of the European Cooperation projects under the Strategic Plan 2020 (ECP 1-5), including the real and effective use and impact of the established common tools and practices. User representatives will be invited to participate in the assessment of results and expected benefits as outlined in the project definition.
Pursuant to Article 152(2) EUTMR, user representatives must be consulted with a view to obtaining the user perspective on the formulation of European Cooperation project definitions and their implementation, including, when relevant, the evaluation of results.
The purpose of the EUIPO User Group meeting is to bring together user associations to exchange views on common subjects of interest, discuss questions on procedures, practices and tools, as well as to make sure that the EUIPO activities remain user-focused. Further virtual sessions will be organised soon.