Christian Archambeau takes over as Executive Director of EUIPO
News
October 01, 2018 About the EUIPO
Christian Archambeau takes over as Executive Director of EUIPO
Christian Archambeau has today taken up the position of Executive Director of the European Union Intellectual Property Office (EUIPO)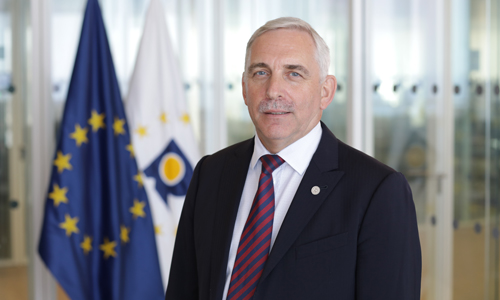 Christian Archambeau has today taken up the position of Executive Director of the European Union Intellectual Property Office (EUIPO), after his appointment was confirmed by the European Council.
On 13 July 2018, Mr Archambeau was recommended by the Committee of Permanent Representatives of the European Union (COREPER) to fill the vacancy left by former EUIPO Executive Director António Campinos. The European Council of Ministers confirmed this appointment on 17 September.
From 1 July until today, he has been serving as Acting Executive Director of the Office.
Born in Belgium, Christian Archambeau previously served as Deputy Executive Director of the EUIPO, which he joined in 2010.
Before that, he held a number of senior positions, including that of Principal Director, at the European Patent Office, in Infrastructure, Administration and Human Resources.
He previously worked at the European Space Agency for over 15 years in various management positions, and before that, worked as a civil engineer and project manager on major construction projects in the Middle East.
In his role as Deputy Executive Director of the EUIPO, Mr Archambeau had direct oversight of the Finance department, the Infrastructure department, the Information Technology Department, the EUIPO Academy, and the Office's quality, performance and risk activities.
He steered the construction of the EUIPO's working environment expansion, resulting in the construction of a new campus which is certified in the fields of sustainable construction, environmental management, safety, accessibility and energy efficiency. The two buildings at the heart of the expansion project have been qualified as outstanding under the BREEAM environmental classification.
Mr Archambeau is a graduate of the Université Libre, Brussels, and speaks French, English, Dutch and Spanish.