100 000 EUTM applications filed this year
News
June 30, 2021 About the EUIPO
100 000 EUTM applications filed this year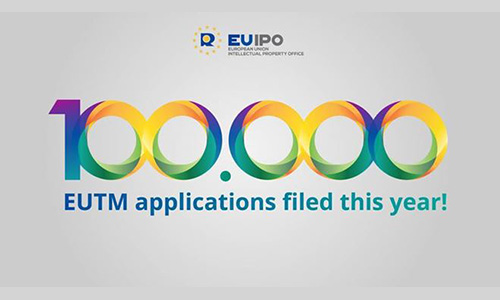 The EUIPO received its 100 000th application for registration of an EU trade mark since 1 January 2021.
Reaching 100 000 applications in just six months is a new record, putting the EUIPO on track to receive more than 200 000 applications by the end of the year. This translates into a growth of almost 25% compared with this time last year.
The Executive Director welcomed the rapid growth: 'This is a testament to the innovators and entrepreneurs who, despite the pandemic continue to develop new ideas, products and services that are driving our economic recovery. We're playing our part in supporting European businesses through our Ideas Powered for Business SME Fund, making IP protection more accessible to Europe's SMEs.'
A rapid growth in 2020 and 2021
EU trade mark applications have been on the rise for a number of years with a historical annual growth between 3.5 % to 5 %. The EUIPO received its one millionth trade mark application in 2011 and has since then experienced a rapid growth in demand for the EU trade mark, from nearly every country and region in the world. Today the Office is dealing with a much higher growth: 10 % in 2020 and close to 25 % in 2021.
More information about filings in our statistics section.