EUIPO Executive Director meets MEP Marion Walsmann
News
May 04, 2021 About the EUIPO
EUIPO Executive Director meets MEP Marion Walsmann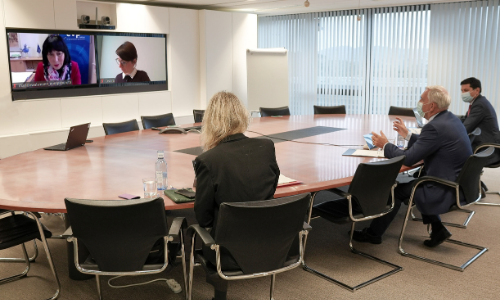 On 3 May, the Executive Director of the EUIPO, Mr Archambeau, met Ms Marion Walsmann virtually. Ms Walsmann is a member of the European Parliament serving on the Committee on Legal Affairs (JURI Committee) as Vice Chair and Rapporteur for the IP Action Plan.
During the meeting, the participants exchanged views on the state of play of the IP Action Plan and its implementation at the EUIPO, the activities and project execution of the EUIPO's Strategic Plan 2025, and other topics of general interest to both institutions.
Mr Archambeau highlighted the EUIPO's full support to the European Parliament and expressed his willingness to participate in any other future exchange of views with the JURI Committee and other committees.
Ms Walsmann congratulated the work of the EUIPO, particularly in terms of cooperation, enforcement and support to small and medium-sized enterprises (SME).