EUIPO Executive Director meets Commissioner Janusz Wojciechowski
News
September 10, 2020 About the EUIPO
EUIPO Executive Director meets Commissioner Janusz Wojciechowski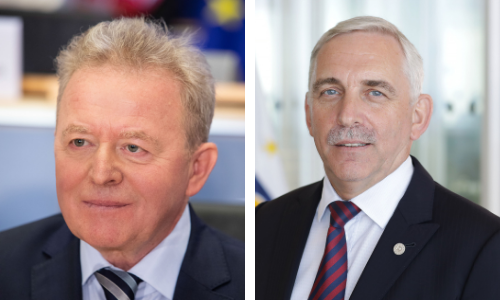 The Executive Director of the EUIPO, Christian Archambeau, met the EU Commissioner for Agriculture, Mr Janusz Wojciechowski, via videolink today.
It was the first bilateral meeting between Mr Archambeau and Mr Wojciechowski, who took up his role on 1 December 2019.
Mr Archambeau presented the EUIPO's Strategic Plan 2025, which began its implementation period on 1 July 2020.
Also on the agenda were areas of cooperation between the European Commission and the EUIPO, including the ongoing collaboration with DG AGRI on the pre-examination of Geographical Indications (GI) and the preparation of the GIview database.
The importance of the GI component of EU Funded projects, for which the EUIPO is the implementing agency within the framework of cooperation with DG AGRI, DG DEVCO and DG TRADE, was also discussed.
Mr Archambeau has engaged in a series of bilateral meetings with EU representatives. Through these contacts, the EUIPO is actively seeking to contribute to the European Commission and EU institutions' policies within the field of IP rights and their protection.