Ideas Powered SME Fund helps almost 13 000 European SMEs
News
November 08, 2021 About the EUIPO
Ideas Powered SME Fund helps almost 13 000 European SMEs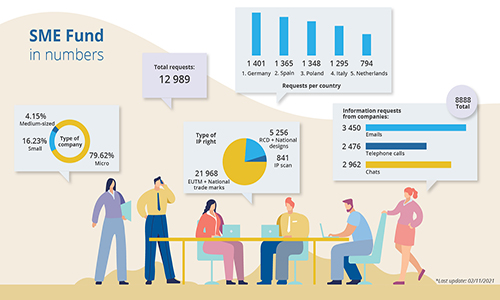 Since its launch in January 2021, the EUIPO's initiative, that grants financial aid for intellectual property (IP) matters, has provided support to 12 989 SMEs across all 27 EU countries.
The largest number of applications have been from companies based in Germany (1 401), followed by Spain (1 365), Poland (1 348) and Italy (1 295).
More than 21 000 trade mark and 5 000 design grants have been requested at national, regional and EU level. Requests for IP Scan total 841 with the vast majority of applications received coming from first time users. The grants cover trade mark, design basic application fees and IP pre-diagnostic services (IP Scan).
Making it easier for companies to register and protect their IP
The Ideas Powered for Business SME Fund is a joint effort between the EUIPO, the European Commission and EU national IP offices. The fund aims to help European small and medium-sized enterprises access their intellectual property rights.
The application period for the SME Fund is now closed, but our help and support for SMEs will continue. The EUIPO is working on an expanded multi-annual programme that will continue to offer support, into the future. In the meantime, small businesses can access:
free training courses;
a platform to access a modern dispute resolution service that helps settle IP disputes between companies; and
tailor-made advice from IP professionals.
Stay tuned and follow Ideas Powered for Business on Twitter and LinkedIn to receive the latest news!
More on Ideas Powered for Business